Artist/Designer/Printer-in-Residence at Hamilton Wood Type & Printing Museum, Two Rivers, Wisconsin, Summer 2020
August, 2020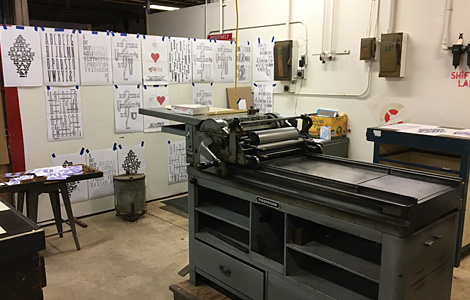 During Summer 2020 I was fortunate to be able to spend a three week residency as Artist/Designer/Printer-in-Residence at the Hamilton Wood Type & Printing Museum in Two Rivers, Wisconsin. If you have read this far on this blog you will recognize mention of Hamilton, as I have visited the Museum several times. But this time, with the support of a Faculty Completion Grant from Thomas Jefferson University, I was able to visit and work at this incredible, amazing facility for three weeks.
Yes, in the midst of the global pandemic I embarked on a 1,000 mile road trip (16 driving hours broken into two driving days each way) to the mecca of all meccas of wood type, letterpress, and general type-nerd heaven. Mind you, I was very careful as I traveled; wearing my mask; using hand sanitizers; and generally keeping appropriate social distancing. Truth be told, I was excited to "go somewhere" after many months of lockdown. I also kind of like to drive, and my 2013 red Honda Fit did very well on the road, carrying all of my paper, ink and supplies (not to mention my bike; there was a fantastic bike trail right along Lake Michigan that was quite beautiful).
At Hamilton, they took our temperature every day; and since most days there were only a few of us working within a thousands and thousands of square foot space, it was easy to keep our social distance. After getting acclimated and looking around, I began by pulling typefaces of interest and generally things that I was interested in, whether abstract shapes or typefaces that I had never seen—let alone used before in any of my work. As this was half the point—to work with materials—and equipment—that I had never worked with before, in particular certain typefaces.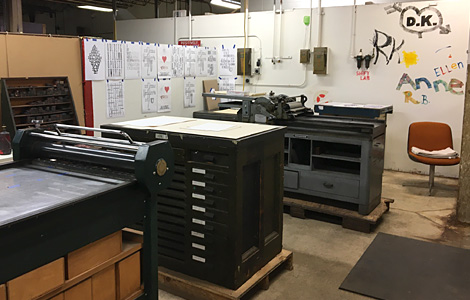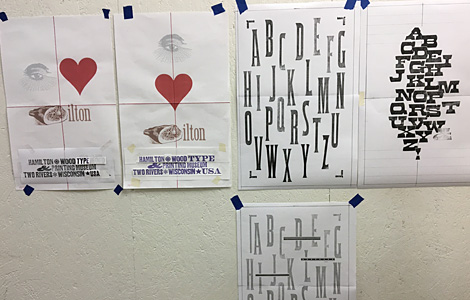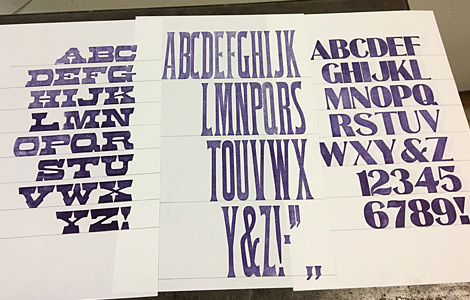 The Museum set me up with a very nice working space, a dedicated space that they reserve for visiting artists, designers, and printers (in fact, I had worked and printed at Hamilton four summers prior; before officially starting my sabbatical; see pervious post). I had access to and used a Vandercook Universal-4 cylinder proof press; a very large proofing sign press; and plenty of space to spread out. I worked completely in an analog fashion (it was actually somewhat of a relief to not touch a computer for three weeks), meaning I proofed the type I was interested in; cut it up and pasted together various layouts; and used the photocopy machine to work through the layouts to decide what I wanted to print.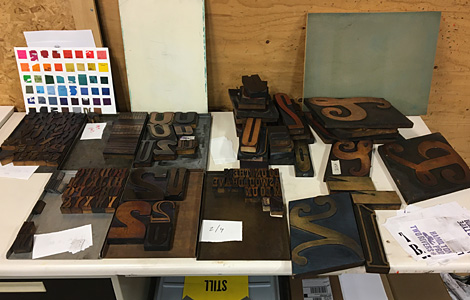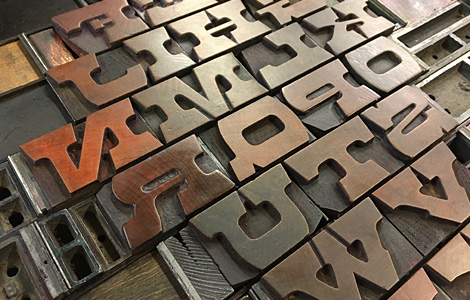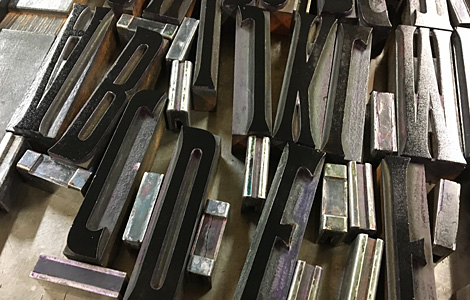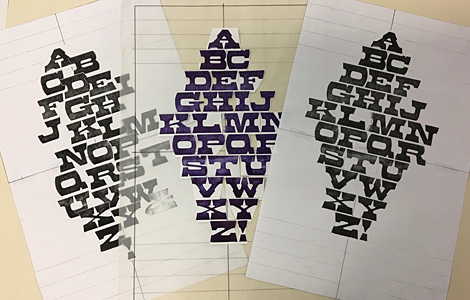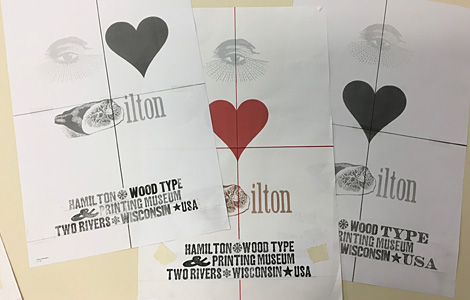 I also worked on several different printing techniques that I had never really done much with before, which is also part of the point in terms of experimenting and trying new things. Among some of the things I tried: "Frankenstein" lockups: using mostly magnets to hold the wood type on the printing bed as opposed to completely locking up nice and tight and secure on the press bed. Setting type on an angle other than 90 degrees: this may sound very basic, but almost all other letterpress work that I have done is contingent on the type and elements being at 90 degree angles so as to lock up tight on the press bed. Using a linoleum block shape as a background color; and mixing large amounts of different typefaces on a given piece. I hope to continue to utilize some of these different techniques as appropriate on future work. I ended up executing several Type Specimen sheets of various typefaces and other various prints.
The Jefferson Faculty Completion grant was also meant to support an upcoming solo exhibition at Montgomery County Community College, which was initially scheduled for Fall 2020. Unfortunately, due to the pandemic, this exhibition has been postponed, and no future date has been set just yet. It is thought that most or all of the work executed at Hamilton would be a part of any future exhibitions. I remain grateful and appreciative for the support.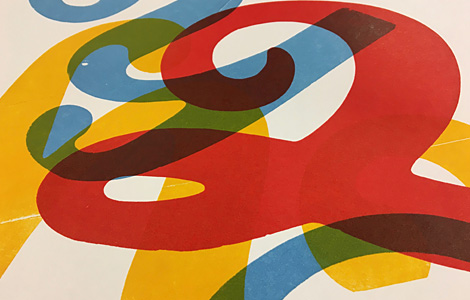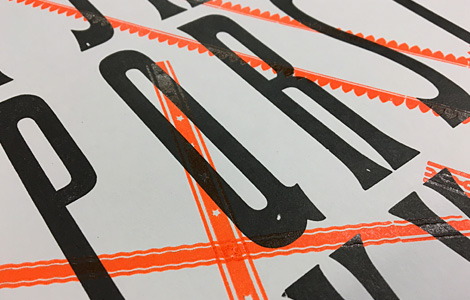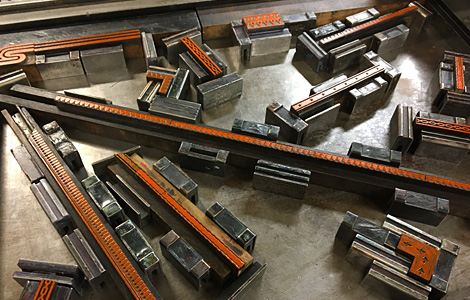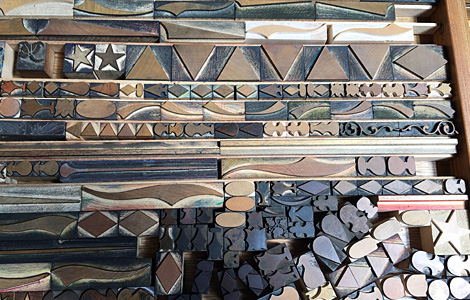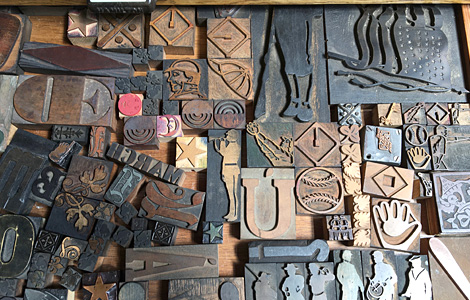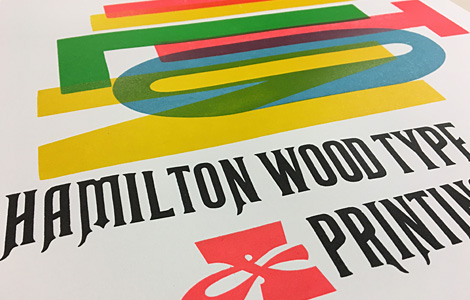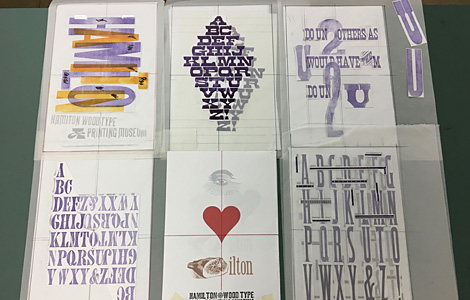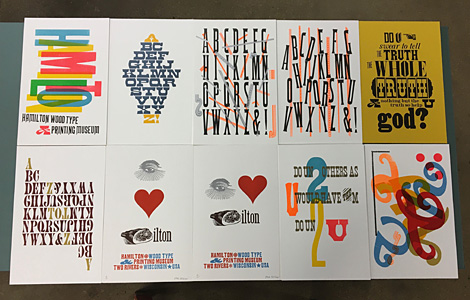 Back to News